IT'S UNANIMOUS—WE'RE MOVING!
NEXT MEETING—TUESDAY, 10 APRIL STARTING AT 1900/7:00 PM AT THE GAME TAVERN!
The votes are in—thanks to everyone who sent a response.  And it was unanimous—we are set to move to the new shop in Chantilly, The Game Tavern.  If you are wondering where it is—it's under the pin on the below map.  The red X is where Piper Hobby was.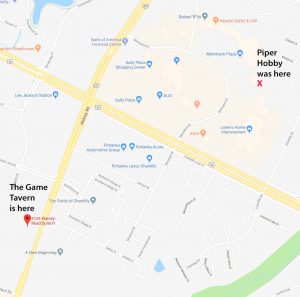 As you can see from the map, getting there is pretty easy.  Be warned, the last time I was there they did not have a sign up.  They are in a commercial space on that side of Walney Road, and have a small sign in the window.  But it's not even a mile south of 50 on Walney.  In terms of quick directions….
If coming from the north—either take 28 to 50, go east on 50, and then turn right on Walney Road.  Or take Centerville Road straight across at the light at 50, because it becomes Walney Road.
If coming from the west—turn right from 50 onto Walney Road at the light.
If coming from the east—turn left from 50 onto Walney Road at the light.
I'll touch base with Doshu there either this weekend or early next week.  If he has made the connection with Hobbytyme, I will special order something so we can get the rules and mechanisms set up for that.  Also, the shop's gaming clientele include a large number of WW II and modern armor wargamers, who build the little model tanks and paint figures.  We'll work with Doshu on any kind of demos which might have broader appeal and get a broader word out.